Red berry nage & rose jelly
Red berry nage & rose jelly
Red berry nage & rose jelly
People

For 2

Preparation time

45 minutes

Cooking time

7 minutes

Resting time

30 minutes

Winery pairing

Grand Cordon Rosé
INGREDIENTS
Fruit Nage
500g red berries (strawberries, raspberries, blueberries, etc.)
1 glass of cranberry juice
1 vanilla pod
50g superfine sugar
Zest of 1 lemon
Zest of 1 orange
Mint
Rose Jelly
600g roses
60cl rose water
Gelling sugar
Recipe
Step 1. Rose Jelly
Wash the rose petals and strain them.
Heat the rose water in a cooking pot until it simmers, then throw the rose petals into it.
Leave to infuse for approximately 30 min.
Weigh the liquid obtained. The weigh out the same quantity of gelling sugar and put everything back into the cooking pot.
Bring to the boil and leave to boil for 7 min, put the jelly in a pot and leave to cool.
Step 2. Red Berry Nage
Boil the cranberry juice, sugar, lemon and orange zest, mint, and vanilla pod split in two. Set aside in the fridge after boiling, filtering the juice with a sieve. This step can be prepared the day before.
Wash the red berries and dice them if necessary.
Step 3. Plating-Up
Divide up the red berries into serving glasses or soup dishes, then pour the cranberry syrup up to their top. Add few dabs of rose jelly and garnish with petals.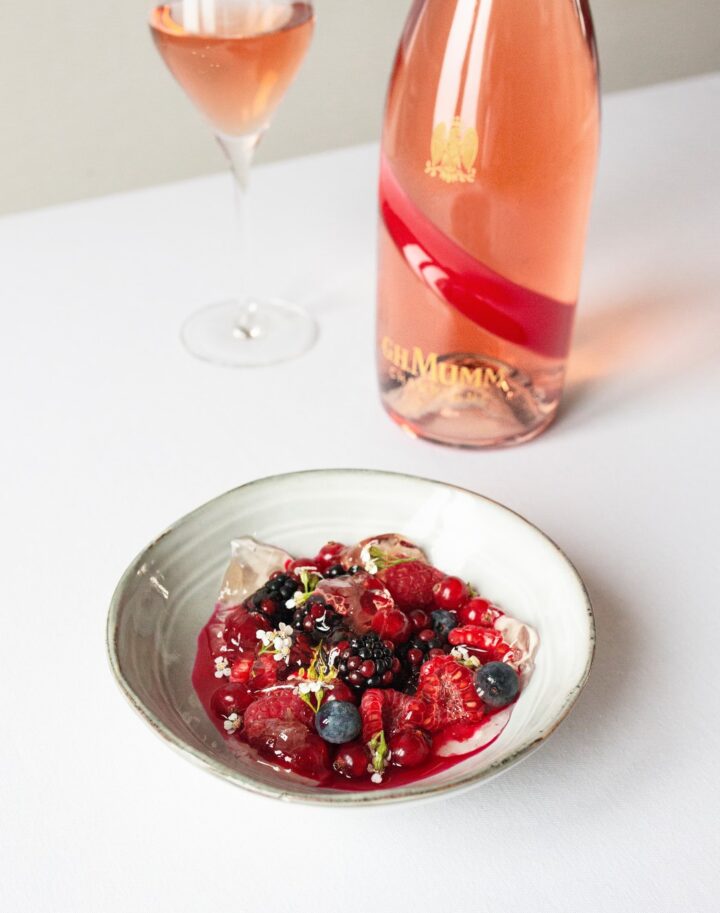 Mumm Grand Cordon Rosé
Mumm Grand Cordon Rosé is a perfect champagne to savour. Inspiring and intense, it can be enjoyed on its own or paired with a range of creative and modern dishes.
Discover the cuvée
Discover the cuvée