Vegetable kakiage
Vegetable kakiage & datterino tomato reduction
People

For 4

Preparation time

30 minutes

Winery pairing

Grand Cordon Rosé
INGREDIENTS
Kakiage
1 baby zucchini
4 mini corn cobs
1/2 broccoli
1/2 red onion
6 mange-tout beans
4 French beans
150g tempura flour
240ml cold water
500ml vegetable oil for frying
Unrefined salt
Datterino Tomato Reduction
500g datterini tomatoes
1/2 garlic clove
1 tablespoonful olive oil
Salt & pepper
2 tablespoonfuls sugar
Recipe
Step 1. Kakiage
Wash the French beans and remove the tails. Thinly slice the onion.
Cut up the broccoli.
Dilute the tempura flour in the cold water in a bowl. Mix all the chopped vegetables in a salad bowl.
Sprinkle 1 tablespoonful of tempura flour and mix everything. Pour in the previous preparation, then gently mix everything.
Heat the oil to 170°C. Using a large spoonful of the preparation, form pancakes of the desired size, which you slide around in the oil. Cook for 5 min and drain on paper towel.
Step 2. Datterino Tomato Reduction
In a saucepan, brown the garlic in 1 tablespoonful of olive oil, add the tomatoes and leave to cook for 5 min; add salt and pepper.
Add the sugar and leave to caramelize for 10 min.
Mix everything and put the mixture back into the saucepan, leave to reduce on a low heat for 20 min and then leave to cool.
Step 3. Plating-Up
Put the kakiages on a plate, serve the sauce in a ramekin on the side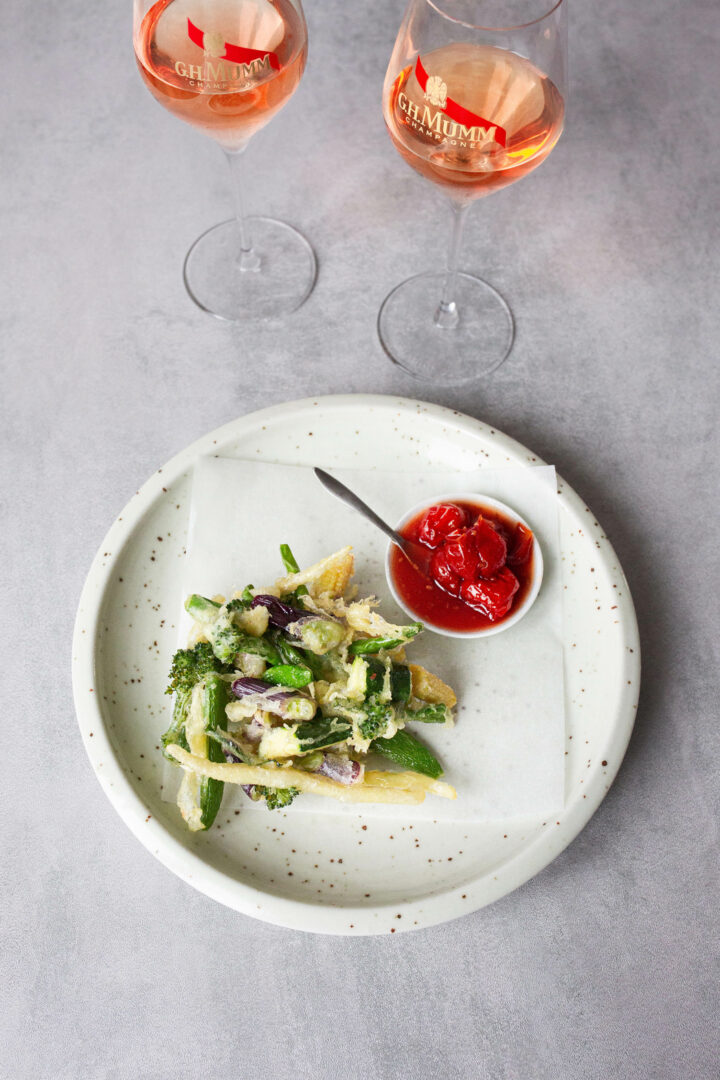 Mumm Grand Cordon Rosé
Mumm Grand Cordon Rosé is a perfect champagne to savour. Inspiring and intense, it can be enjoyed on its own or paired with a range of creative and modern dishes.
Discover the cuvée
Discover the cuvée