Perfect soft-boiled egg
Perfect soft-boiled egg, cauliflower cream
People

For 4

Preparation Time

10 minutes

Cooking Time

40 minutes

Winery pairing

Cordon Rouge
INGREDIENTS
4 eggs
1 cauliflower
50g butter
30cl milk
Toasted almonds
Olive oil
Salt & pepper
Flowers and herbs to garnish
RECIPE
Step 1. Perfect Soft-Boiled Egg
Put 4 eggs at room temperature into a salad bowl. Bring 2l of water to the boil in a saucepan.
When the water starts to boil, pour it over the eggs. Then add 500ml of tap water and cover for 30 min.
Step 2. Cauliflower Cream
Plunge the cauliflower into the salted boiling water for 10 min.
Once cooked, mix it with the butter and milk and, if necessary, sieve it to obtain a smooth texture.
Step 3. Plating-Up
Put a spoonful of cauliflower cream into a soup dish. Break the perfect soft-boiled egg in the middle and add the toasted almonds on top.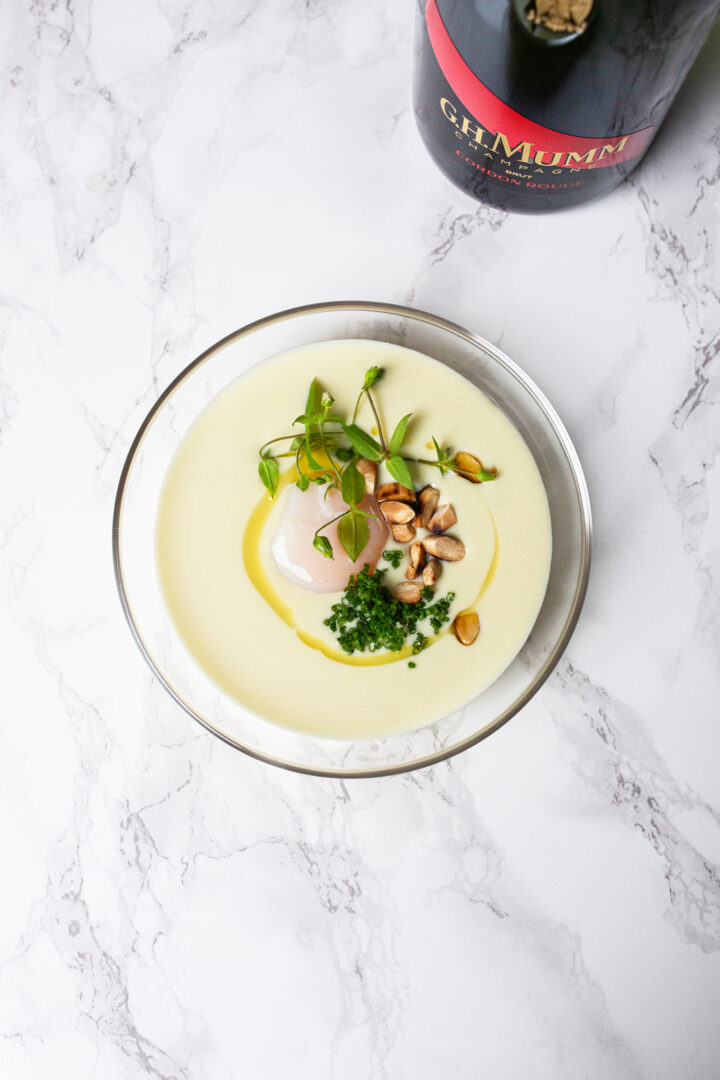 Mumm Cordon
Rouge
Mumm Cordon Rouge is ideal for an aperitif among friends or over a meal –those moments when everything simply clicks and positive energy flows: real friends sharing real talk, everyone at ease in a joyful, convivial atmosphere.
Discover the cuvée
Discover the cuvée