Ricotta cheese open sandwich
Ricotta cheese open sandwich
Ricotta cheese & roasted cherry tomato open sandwich
People

For 2

Cooking time

10 minutes

Resting time

30 minutes

Winery pairing

Grand Cordon Rosé
INGREDIENTS
2 slices farmhouse bread
250g cherry tomatoes
1 garlic clove
Olive oil
1 teaspoonful sugar
Dried mixed herbs
100g ricotta
Herbs: parsley, sage, basil
Salt & pepper
Recipe
Step 1. Open Sandwich
Preheat the oven at 190°C.
Put the tomatoes and the unpeeled garlic into an oven dish.
Brush liberally with olive oil, sprinkle with mixed herbs, salt, sugar, and pepper.
Put in the oven for 30-35 min.
Chop the herbs and roast garlic. Add them to the ricotta cheese.
Add salt and pepper.
Toast the bread in the oven, brushed beforehand with olive oil.
Step 2. Plating-Up
Spread the toasted bread with ricotta cheese and add the cherry tomatoes on top.
Garnish with a few herbs of your choice.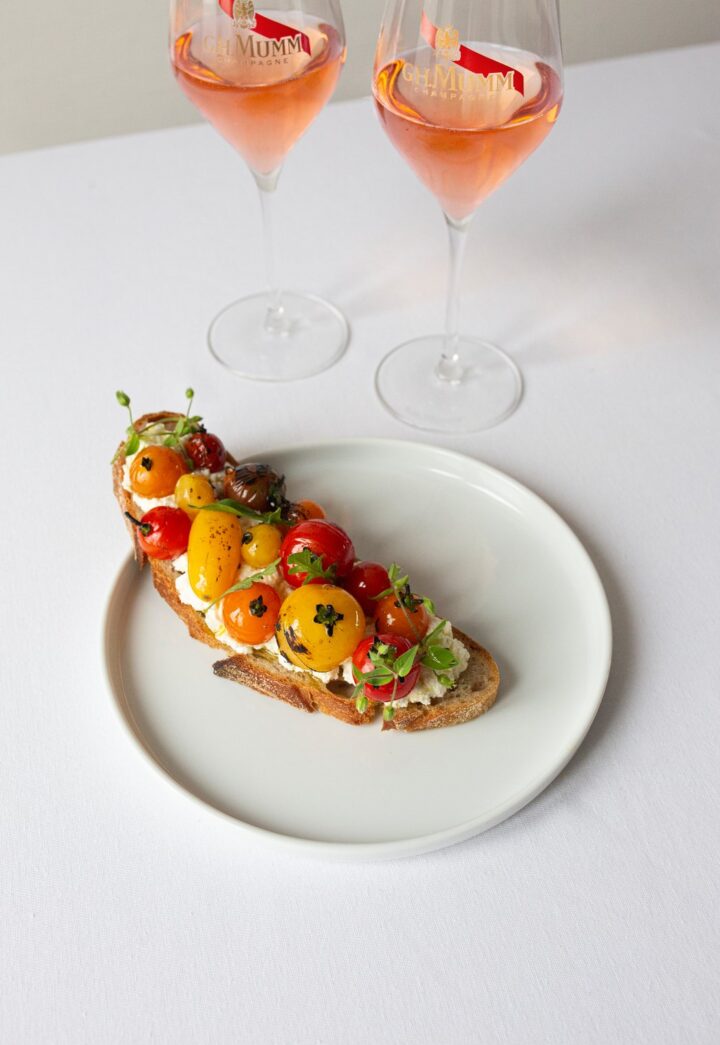 Mumm Grand
Cordon Rosé
Mumm Grand Cordon Rosé is a perfect champagne to savour. Inspiring and intense, it can be enjoyed on its own or paired with a range of creative and modern dishes.
Discover the cuvée
Discover the cuvée