Spider crab linguine
Spider crab linguine
People

For 4

Preparation time

1 hour 30 minutes

Winery pairing

Le Rosé
INGREDIENTS
Spider Crab Bisque
1 spider crab
1 shallot
1 bouquet garni
2 garlic cloves
2 Olive oil
1 sprig of thyme
500ml fish stock
1L fish court-bouillon
200ml tomato coulis
Salt & pepper
220g linguine
Recipe
Step 1. Crab Bisque
Kill the spider crab with a knife by incising its head. Cut off the legs and blanch them in a fish court-bouillon with the bouquet garni for 2 min. Shell them and set aside.
Remove the inside of the shell to retrieve the roe and set it aside in the fridge.
To prepare the bisque, brown the crushed inside of the spider crab and its cut-up shell in a tossing pan with olive oil. Add the thinly sliced shallot, crushed unpeeled garlic, the sprig of garlic, then add the fish stock and the tomato coulis.
Reduce it by a half, then put through the vegetable mill and mix with the roe.
Correct the seasoning with salt and pepper.
Step 2. Pasta
Cook the pasta, shortening the recommended cooking time by 5 min, and keep a glass of the cooking water.
Put the pasta, a little cooking water and a ladleful of bisque into a saucepan.
Stir the pasta constantly to release the starch, thereby obtaining a smooth, creamy sauce (this technique is called mantecatura).
Plate-up with a ladle, adding a little crab meat and some pasta to garnish.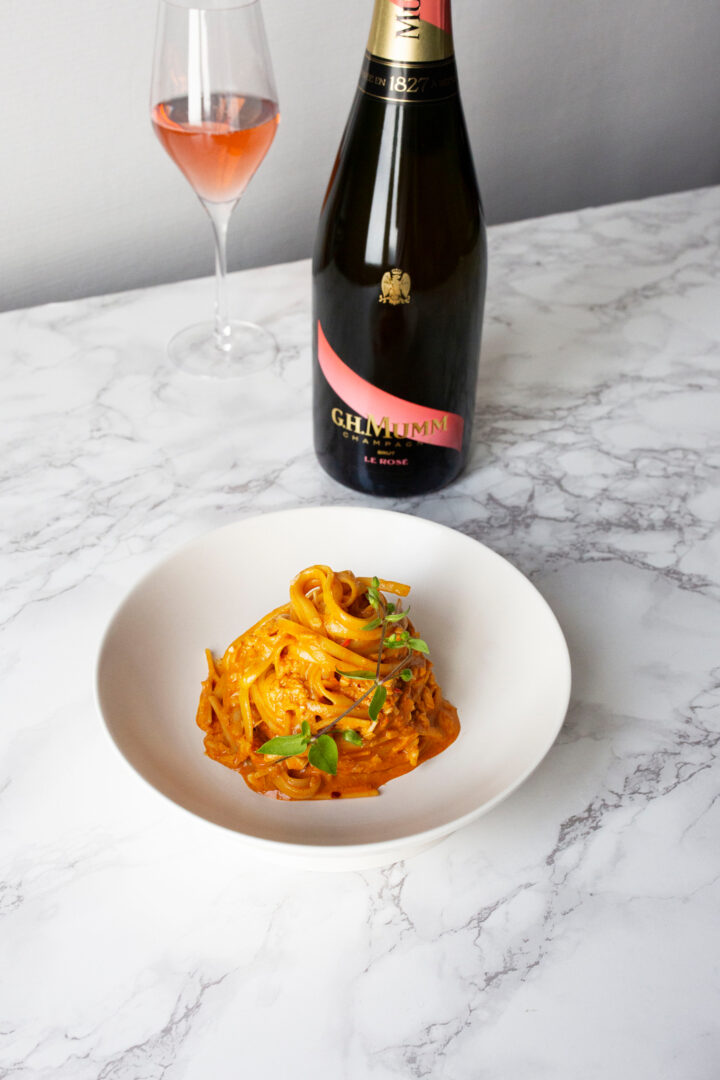 Mumm Le Rosé
Light-hearted Mumm Rosé reveals its charms as an apéritif, but the bright berry notes also complement a wide range of dishes, including simple seasonal starters such as seafood, fresh cheeses and salmon marinated with fresh cranberries.
Discover the cuvée
Discover the cuvée