Mini pavlova
Mini pavlova with red berries marinated in red shiso
People

For 2

Preparation time

45 minutes

Cooking time

30 minutes

Resting time

20 minutes

Winery pairing

Le Rosé
INGREDIENTS
Meringues
3 egg whites
80g superfine sugar
80g confectioners' sugar
1 pinch of salt
1 teaspoonful vinegar
Chantilly
100ml whipping cream 10g superfine sugar
30g Philadelphia
Red Berries with Shiso
120g red berries of your choice
2 shiso leaves
1 tablespoonful sugar
1 tablespoonful lemon juice
Recipe
Step 1. Meringues
Whip the egg whites with the pinch of salt and vinegar. Add the superfine sugar in 3 portions, whipping constantly. The meringue should be firm, white and have a pearly
gloss.
Fill a piping bag and pipe the meringue in a spiral shape, with a circumference of approximately 10-15 cm.
Put it in the oven at 130°C for 20-30 min. The meringue should remain soft inside.
Step 2. Chantilly
Pour the very cold cream and the Philadelphia into the beater bowl. Whip up for a few minutes, gradually adding the sugar.
Step 3. Red Berries with Shiso
Halve the red berries, add the sugar, lemon juice and chopped shiso. Leave to rest for 20 min.
Arrange the chantilly on the meringue and add the berries on top. Garnish with herbs and microshoots.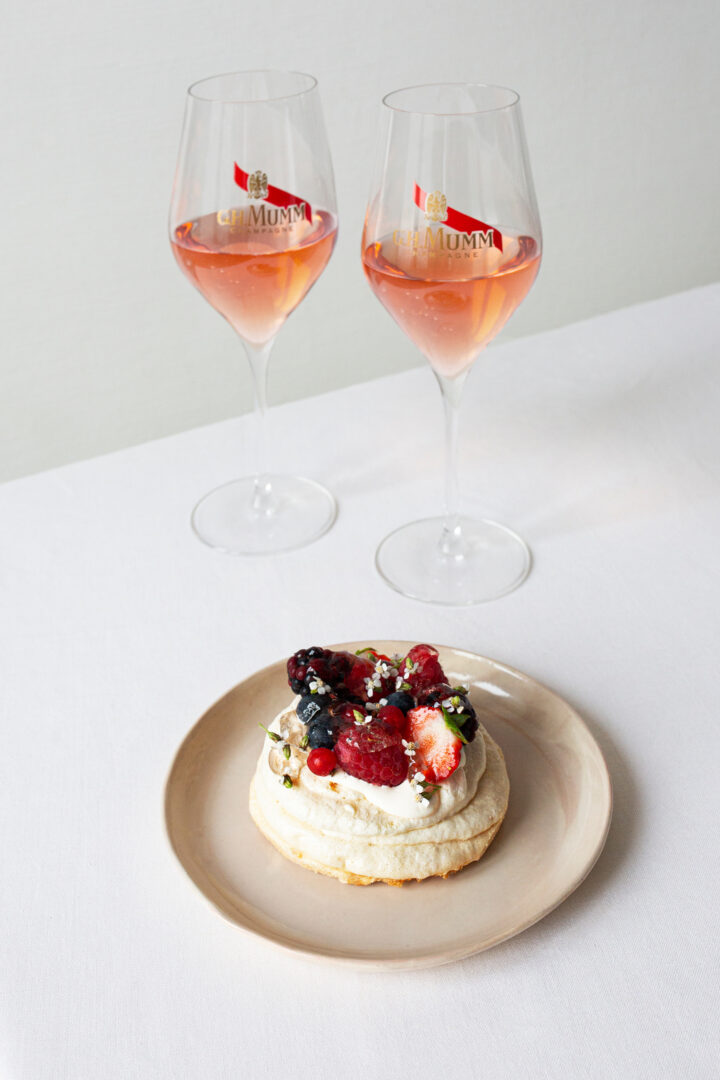 Mumm Le Rosé
Light-hearted Mumm Rosé reveals its charms as an apéritif, but the bright berry notes also complement a wide range of dishes, including simple seasonal starters such as seafood, fresh cheeses and salmon marinated with fresh cranberries.
Discover the cuvée
Discover the cuvée