Mumm baba
Mumm baba
People

For 2

Preparation time

1 hour 30 minutes

Winery pairing

Cordon Rouge
INGREDIENTS
Baba Mixture
180g flour, type 'T45'
20g sugar
4g salt
10g baker's yeast
8g milk
120g egg
60g soft butter
Syrup
230g sugar
520g water
Zest of 1 organic orange
120g Cordon Rouge champagne
Chantilly Cream
300g heavy whipping cream
10g confectioners' sugar
Apricot Topping
250g apricot purée
60g superfine sugar
3 gelatin sheets
Recipe
Step 1. Baba mixture
Put the flour, sugar and salt into a mixer bowl (with the dough hook). Dissolve the yeast with the milk. Gradually blend in the eggs. Knead until the mixture comes away from the sides of the mixer bowl. Then blend in the butter in three goes.
Knead the mixture to obtain an elastic preparation. Then leave your mixture to rise in a warm room for 45 min. Butter your baba pan and put the mixture up to 2/3 of the pan.
Leave to rise again for 30 min.
Preheat the oven to 180°C, then put in the oven for 20 minutes.
Step 2. Apricot topping
Put the gelatine sheets into a bowl of cold water for 5 min. Heat the apricot purée and sugar in a saucepan. Blend in the gelatine and turn off the heat. Set aside in the fridge.
Step 3. Chantilly cream
Whip up the cream with the mixer, stiffen your mixture with the confectioners' sugar. Set aside in the fridge.
Step 4. Syrup
Bring the water and sugar to the boil in a saucepan. Add the orange zest. Blend in the champagne.
Cover and leave to infuse on a low heat for 30 min.
Step 5. Assembling
Dip your baba into the hot syrup and put it on a grate to drain.
Melt the apricot topping in a saucepan (2 min) before coating the babas.
When the babas are cold, cover them with the topping and garnish with chantilly cream.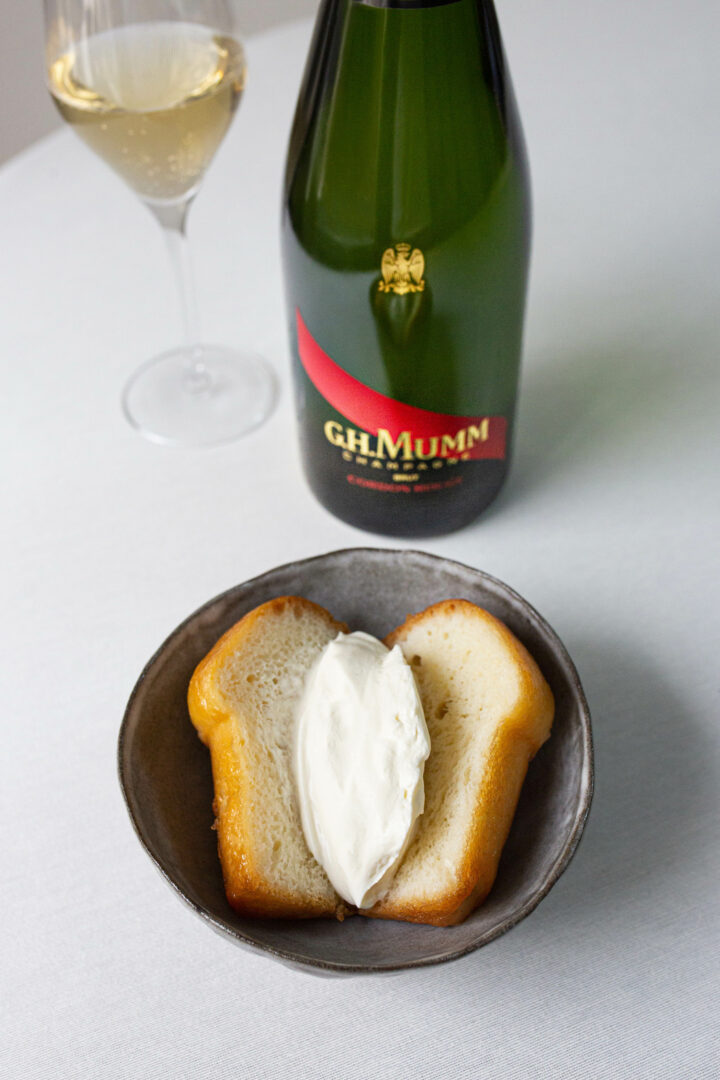 Mumm Cordon
Rouge
Mumm Cordon Rouge is ideal for an aperitif among friends or over a meal –those moments when everything simply clicks and positive energy flows: real friends sharing real talk, everyone at ease in a joyful, convivial atmosphere.
Discover the cuvée
Discover the cuvée