Grapes in syrup & milk mousse
Grapes in syrup & milk mousse
Grapes in light syrup, milk mousse & raspberry powder
People

For 2

Preparation time

45 minutes

Cooking time

1 minute

Resting time

2 hours

Winery pairing

Cordon Rouge
INGREDIENTS
Milk Mousse
435g whipping cream (35% fat)
45g honey
20g powdered milk
30g condensed milk
2.5 gelatin sheets
10g confectioners' sugar
Grapes in Syrup
1 bunch of white grapes
1l water
350g superfine sugar
1 vanilla pod
Raspberry Powder
1 handful of dehydrated raspberries
Recipe
Step 1. Milk Mousse
Pour 110g of whipping cream, the honey, powdered milk and condensed milk into a saucepan, then mix.
Cook and bring to the boil.
Add the previously rehydrated gelatin to the cold water and mix away from the heat until it dissolves.
Leave the mixture to cool.
Whisk the rest of the whipping cream with the confectioners' sugar at top speed.
Carefully blend both mixtures and leave to set in the fridge for at least 2h.
Step 2. Grapes in Syrup
Pour the water and the superfine sugar into a saucepan and add the vanilla pod split in two. Bring to the boil.
To peel the grapes, put them in a salad bowl and pour boiling water over them.
Carefully pull off the skin to avoid damaging the grapes.
Carefully place the grapes into the syrup, using a large spoon. Reduce the heat to simmering point.
Leave the grapes to poach for 1 min, then turn off the heat and leave to cool completely.
Step 3. Raspberry Powder
Mix the dehydrated raspberries to obtain a fine powder.
Step 4. Plating-Up
Place a few grapes in syrup on a plate, add the milk mousse on top and sprinkle with raspberry powder using a fine sieve.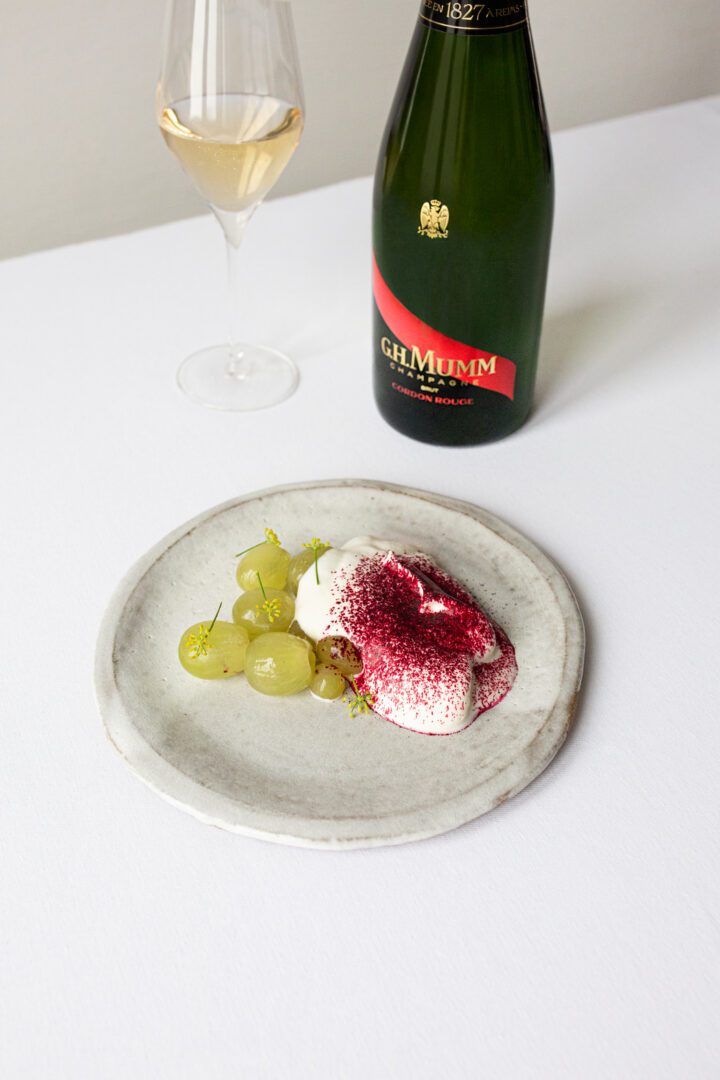 Mumm Cordon
Rouge
Mumm Cordon Rouge is ideal for an aperitif among friends or over a meal –those moments when everything simply clicks and positive energy flows: real friends sharing real talk, everyone at ease in a joyful, convivial atmosphere.
Discover the cuvée
Discover the cuvée