360°
Cordon Rouge
Since 1876, the iconic cuvee with its bold red sash signals the start of a memorable moment: good times with good friends. Blended from a palette of 120 crus, Mumm Cordon Rouge expresses the rich diversity of Champagne's terroirs, always in the fresh, vibrant style that is the signature of Pinot Noir, the House's emblematic grape. Made from a rich palette of more than 120 villages representing all the diversity of the Champagne region of France, Mumm Cordon Rouge is the signature cuvee of Maison Mumm. This exceptional brut champagne blends Mumm's signature grape variety, Pinot Noir from the Montagne de Reims and Aube; with Chardonnay from the Côte des Blancs, Sézannais, Vitryat and Aube; and Meunier from the Marne and Ardre valleys and the Montagne de Reims. Mumm Cordon Rouge is beautifully presented in an iconic bottle adorned with a red ribbon thathas paid homage to the Legion of Honour since 1876. Aged for a minimum of 20 months in Maison Mumm's cellars, this wine is ideal as an aperitif among friends or a lazy Sunday brunch –those moments when everything simply clicks and positive energy flows: real friends sharing real talk, everyone at ease in a joyful, convivial atmosphere.
To the eye

The robe's golden-yellow hue, enlivened by a delicate stream of fine bubbles, extends a sparkling invitation to take a first sip.

On the nose

First impression: a sensation of freshness, with rounded, delectable notes. Juicy scents of succulent white and yellow fruits entice, with hints of lychee, pineapple, praline. Appetizing aromas of pastry – yeast, brioche – heighten the anticipation.

On the Palate

Vibrant freshness and exuberant energy excite the palate. Complex and perfectly balanced, the wine reveals rounded, elegant flavors of fruit and caramel. The powerful finish is at once creamy and effervescent.
A Word from our cellar master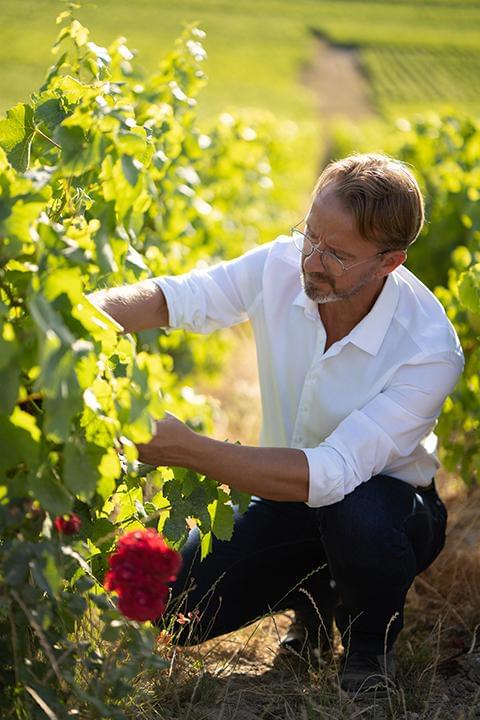 Such a lively personality. Mumm Cordon Rouge is the perfect champagne to share with friends for an apéritif or tapas, when everyone feels relaxed and the conversation flows.
BREAKING NEW GROUND TO REVEAL THE ESSENCE OF PINOT NOIR
The story of Maison Mumm is one of legendary terroirs and of a bold, distinctive grape: Pinot Noir.

With its power and rich, elegant fruit, the black grape takes pride of place in the House's classic blends, to which Chardonnay and Meunier grapes add their inimitable floral and fruity notes.
Such a lively personality. Mumm Cordon Rouge is the perfect champagne to share with friends for an apéritif or tapas, when everyone feels relaxed and the conversation flows.
Behind the cuvée
In 1876, Georges Hermann Mumm took a cue from the Légion d'Honneur, France's highest civilian award, and adorned his Brut cuvée with a red ribbon – a symbol of the champagne's quality.

Later, in 1881, the ribbon was replaced by a label that displays the bold red sash known the world over. Instantly recognizable, the Cordon Rouge enjoys iconic status, symbol of Maison Mumm's relentless pursuit of excellence.
CORDON ROUGE 75 cl
Mumm Cordon Rouge epitomizes the House's outstanding craftsmanship and the avant-garde style it has nurtured and developed for almost 200 years. Produced from Pinot Noir, Meunier and Chardonnay, this brut champagne is a reflection of the Cellar Master's expertise in the art of blending. With a golden color and delicate bubbles, Mumm Cordon Rouge reveals a seductive nose featuring aromas of yellow and white fruits combined with notes of tropical fruits such as lychee and pineapple. On the palate, the initial impact is frank and intense, with elegant roundness and fruity flavors blending into notes of caramel.

Emblematic of the House style, Mumm Cordon Rouge 75 cl is adorned with the red sash to be found on Mumm champagne bottles since 1876, embodying the House's outstanding craftsmanship.