Langoustine wonton bouillon
Langoustine wonton bouillon
Langoustine wonton bouillon
People

For 2

Preparation time

45 minutes

Cooking time

5 minutes

Resting time

1 hour

Winery pairing

Cordon Rouge
INGREDIENTS
Dough
200g flour
15cl warm water
Filling
100g langoustine meat
4 chopped green onions
100g ground pork
1 pinch of salt
1 pinch of pepper
1 tablespoonful soy sauce
1/2 teaspoonful sugar
Langoustine Bouillon
Langoustine shells
1 carrot
1 shallot
1 garlic clove
1 leak white
2 drizzles of olive oil
1 pinch of coarse salt
50g butter
RECIPE
Step 1. Dough
Mix the dough ingredients in a bowl and knead for 10 min. Form a ball and leave to rest for 1h.
Roll out the dough to 2 mm on a floured work surface.
Use a pastry cutter to form 8 cm-diameter circles.
Step 2. Filling
Shell the langoustines.
Roughly chop the langoustine meat, mix with the rest of the ingredients and knead to obtain a filling.
Step 3. Folding
Put a little filling in the center of the dough circles, then close the dumplings into halfmoons.
Step 4. Bouillon
Wash, peel and dice the vegetables.
Pour a drizzle of olive oil into a pressure cooker and heat on a high heat.
Brown the vegetables, then sweat the shells without browning them. Add 1L of water and leave to cook on a low heat for 25 min. Leave to infuse for 5 min, away from the heat.
Filter with a conical strainer and add salt if necessary.
Heat the butter to bubbling point in a small frying pan. Turn off the heat when it is no longer sputtering.
Cook the wontons in a large volume of boiling water for 5 min.
Step 5. Plating-Up
Arrange the wontons in a soup dish and pour the bouillon over them. Add a little brown butter and garnish with baby shoots or flowers.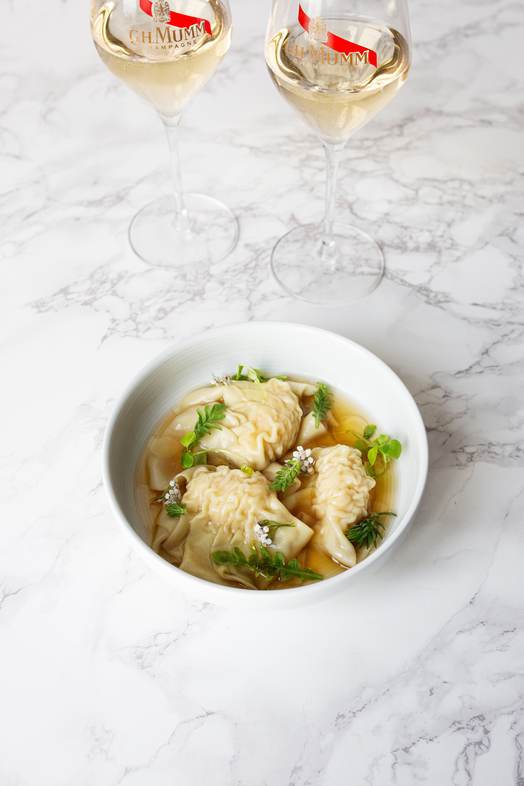 Mumm Cordon Rouge
Mumm Cordon Rouge is ideal for an aperitif among friends or over a meal –those moments when everything simply clicks and positive energy flows: real friends sharing real talk, everyone at ease in a joyful, convivial atmosphere.
Discover the cuvée
Discover the cuvée