Duck & Pepper purée with chorizo
Duck & Pepper purée with chorizo
Duck & pepper purée with chorizo
People

For 2

preparation time

1 hour

Winery pairing

Cordon Rouge
INGREDIENTS
1 duck breast
2 red peppers
1 tomato
1/2 garlic clove
1 tsp mild chili powder
30g chorizo
1 glass water
1 tbsp olive oil
Salt & pepper
Recipe
Step 1. Duck & Pepper purée
Roughly chop the chorizo and brown it in a saucepan with 1/2 chopped garlic clove in the olive oil.
Add the crushed tomato and pepper, then the mild chili powder, and add a glass of water.
Leave to form until the pepper is cooked, add salt and pepper.
Mix everything and filter with a strainer.
Nick the duck skin lengthways. Cook the duck breast in a frying pan with no added fat for 2 min on each side, then put into the oven at 200°C for 8 min.
Step 2. Plating-Up
Halve the duck breast lengthways.
Put a little sauce on a plate and place the duck breast on either side of it.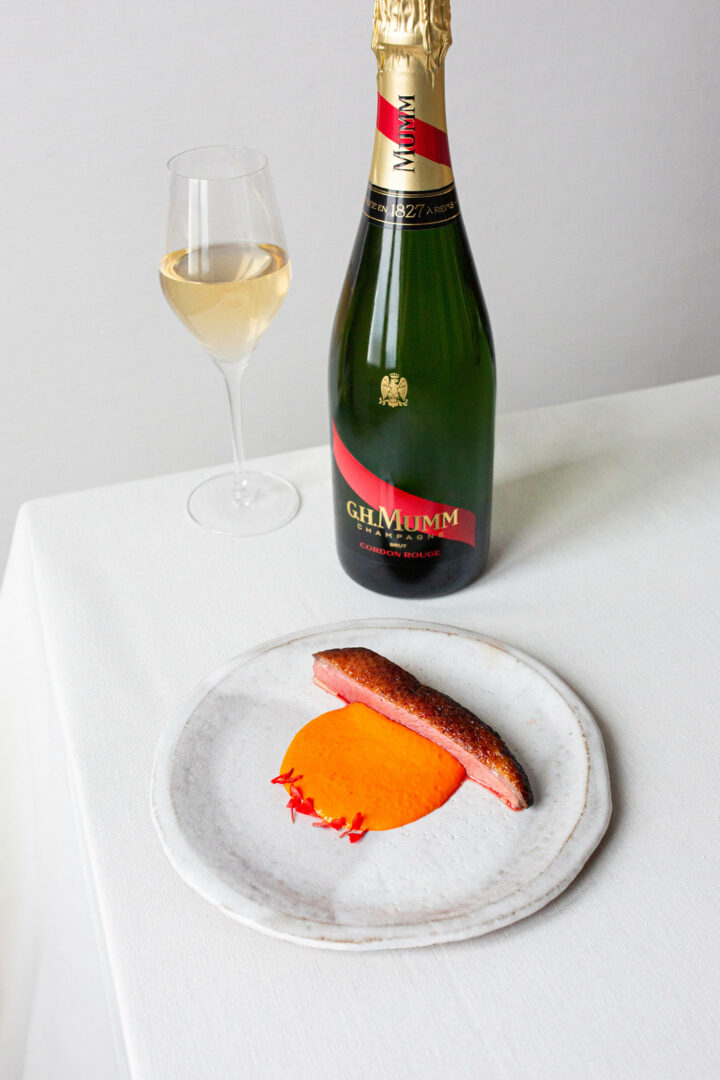 Mumm Cordon
Rouge
Mumm Cordon Rouge is ideal for an aperitif among friends or over a meal –those moments when everything simply clicks and positive energy flows: real friends sharing real talk, everyone at ease in a joyful, convivial atmosphere.
Discover the cuvée
Discover the cuvée