Crab ravioli & crab shell butter
Crab ravioli & crab shell butter
Crab anolini (ravioli) with crab shell butter
People

For 4

Preparation Time

1 hour 30 minutes

Winery Pairing

Grand Cordon
Ingredients
Ravioli Dough
160g flour
90g beaten egg (type '00')
Filling
175g mascarpone cheese
1 crab
Salt & pepper
Saffron Oil
10cl grapeseed oil
2 sachets saffron
1 teaspoonful mild chili powder
Crab-Shell Butter
Recipe
Step 1. Crab
Plunge the crab into 2L of salted boiling water and cook for 40 min. Leave to cool.
Step 2. Ravioli Dough
Mix together the ingredients and hand-knead for 10 min; the dough should be smooth.
Form a ball with the dough and leave to stand in a covered bowl at room temperature for 1h.
Step 3. Filling
Shell the crab and mix together all the ingredients for the filling, then put into a piping bag.
Step 4. Crab-Shell Butter
Melt the butter in a saucepan and add the crab shell. Heat and leave to bubble for 10 min, then filter.
Step 5. Saffron Oil
Put the mild chilli powder, saffron and olive oil in a saucepan. Warm up on a low heat for 10 min and leave to cool.
Step 6. Folding
Roll out the dough on a floured work surface to a thickness of 2mm. Cut out circles 7cm in diameter.
Put a little filling in the center of the dough and fold over into a half-moon shape.
Cut the edges with a round pastry cutter.
Cook the ravioli in salted boiling water for 6 min, then strain and put them on a plate.
Bubble up the butter again and pour it over the ravioli. Finish off with the saffron oil.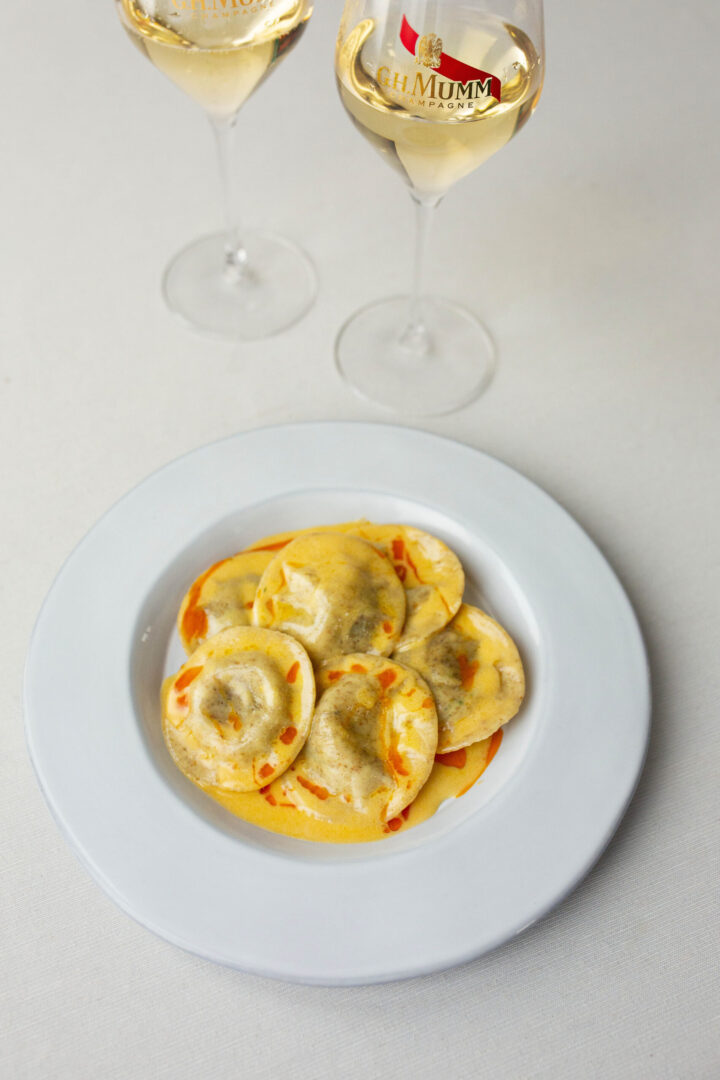 Mumm Grand Cordon
Toasting milestones, personal achievements or simply celebrating friendship with an improvised get-together, the exceptional fresh intensity of Mumm Grand Cordon champagne evokes the exhilaration of life's most unforgettable moments.
Discover the Cuvée
Discover the Cuvée