Mimosa
Recipe
INGREDIENTS

• 90 ml — 3 oz Cordon Rouge
• 30 ml — 1 oz Fresh orange juice
Story
The most famous champagne drink for brunch. It is said to have been invented at the ritz hotel in paris in 1925. Its british equivalent is known as 'buck'sfizz'.
Method
In a chilled flute fill 1/3 with fresh orange juice, fill up with Cordon Rouge, stir gently
Tip
Always prefer hand press juicer than a citrus reamer to obtain a pure tasting juice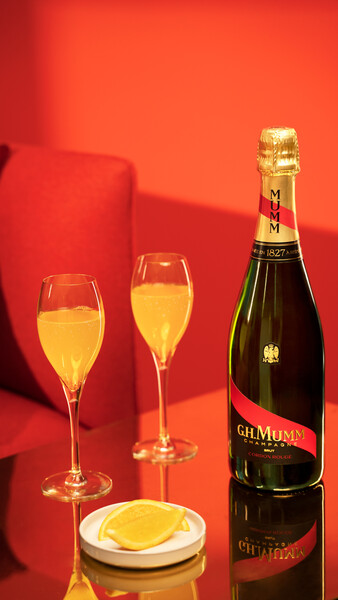 Mumm Cordon Rouge
Aged for a minimum of 20 months in Maison Mumm's cellars, this wine is ideal as an aperitif among friends or a lazy Sunday brunch –those moments when everything simply clicks and positive energy flows: real friends sharing real talk, everyone at ease in a joyful, convivial atmosphere.
Discover the Cuvée
Discover the Cuvée